A mission project has just been completed at Martin Luther Church.  We have connected with Partnership 4 Hope in Omaha, Nebraska to help young adult former foster youth travel the bridge to independence.   Partnership 4 Hope manages Youth Mart which is a resource for former foster youth to get material needs met such as furniture, clothing, household supplies, etc. as they start their lives while having aged out of the foster care system.   The items are provided to the youth free of charge through Partnership 4 Hope which also gives the youth an opportunity to be matched with mentors as they navigate to independence.
MLC members and friends worked together to gather items from their own homes and also purchased new items during the months of May and June.   The Sewing Group at MLC also gave 25 blankets for the project.
On Friday evening, June 19th, the items donated were loaded at the church to fill a trailer!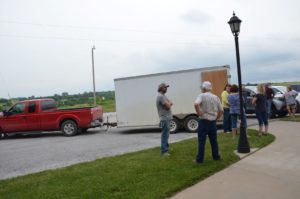 They were delivered to the Youth Mart on Saturday, June 20th.  A Thrivent grant was also utilized with the mission project and provided food items for the Partnership 4 Hope youth.
Every Friday Partnership 4 Hope and it's volunteers, collaborating partners, and P4Hope representatives deliver furniture and supplies to former foster youth.  Each youth also also is given a formal invite to partner with a mentor.
Check out a KETV news report on UNO volunteers helping at the Youth Mart on Martin Luther King day this past January.  Their news video gives an look inside the Youth Mart.     KETV – Partnership 4 Hope January 20, 2020
You can also check out the facebook page and website of Partnership 4 Youth.
https://www.facebook.com/Partnership4hope/
https://www.partnership4hope.com/
Acts 20:35 – (The Apostle Paul speaks to the Ephesian elders):      In all things I have shown you that by working hard in this way we must help the weak and remember the words of the Lord Jesus, how he himself said, 'It is more blessed to give than to receive.'"